​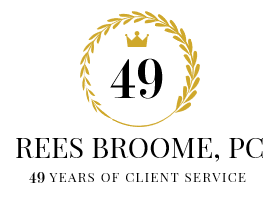 ​
Firm History
On July 1, 1974, Joel Birken, Jon Broome and the late Jim Rees founded Rees, Broome & Birken, PC, in Tysons, Virginia. The three shared the vision of offering superior legal representation in a friendly, relaxed environment in the Northern Virginia suburbs of Washington, D.C. Forty-nine years later, we still operate under those same principals. Today, Rees Broome has grown to be one of Virginia's top law firms, with 50 attorneys and proven expertise in the areas of civil litigation, business, tax, estates, employment, construction defect liability, homeowners' and condominium associations, zoning, commercial real estate and creditors' rights work. In addition to our main office in Tysons, we have growing offices in Leesburg, Virginia and Bethesda, Maryland.
For 49 years, our clients have trusted our ability to lead with knowledge, wisdom and confidence. And we continue to strive every day to provide each client the best possible representation and service experience.
Our Values
Honesty & Integrity
We are uncompromising in our honesty and integrity, which creates a culture of trusting relationships with our employees, clients, vendors and community.
Client Focus
We actively listen to our clients in order to understand their issues and deliver a unique and innovative solution that ensures success.
Collaboration
Collaborating with exceptionally creative, highly talented and knowledgeable colleagues, across disciplines, has been key to our success over the past forty-nine years. Our collegial and open-minded culture makes it a place where people are proud to work.
One Firm
We believe that when our lawyers work together across practice areas, offices and the local region, our clients are the ones who benefit. We embrace a fully integrated, "one firm" structure that combines our strengths and offers a full range of capabilities to help expand opportunities for our clients.
Diversity & Inclusion
We believe that having a diverse and inclusive workforce is pivotal to our success as a top law firm in the Commonwealth of Virginia and surrounding areas. We recognize the importance in having different perspectives in order to better understand and address our clients' unique and pressing needs and being able to provide them with the highest quality of legal services.
Community Service
Service to our communities is a core value, reflected in our robust pro bono and community service programs. Our client's interest extends beyond the office walls. Our concept of responsiveness includes participation in the legal, business and service organizations surrounding the Northern Virginia, Maryland and DC region.